Benterprise is all about making your experience of owning a dog as easy and enjoyable as possible. We only employ local upper west side dog walkers, which allows us to offer walks at hours many other services don't. We put safety first.
There are many different options for dog care on the UWS and it can be very difficult trying make a decision on the right one.  What makes Benterprise unique you say?
All in one full service dog care.  There is nothing we cannot handle.

Training
Dog Walking
Overnight care
Daycare
Dog Sitting

Local walkers at your fingertips

The majority of our affiliated walkers are local UWS residents
We offer walk times that other companies simply cannot.  Same day, weekends, mornings, nights.

 Walkers paid highest in the industry

Once a walker is paired with a dog, that is now their dog.  They keep a majority portion of each walk for themselves.
This allows all walkers to focus solely on walking without having to balance 3 jobs.

Life, passion, experience

Everyone affiliated with Benterprise loves what they do and will be doing this for years to come.  Turnover is extremely low and we pride ourselves on being the best.

COLLEGE EDUCATED, SELF MOTIVATED, DOG AFFILIATED!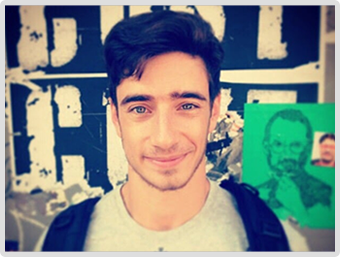 Hello to all of my fellow dog owners and lovers, my name is Ben Chaplin. I graduated from Hobart and Williams Smith College in 2012 with a degree in Environmental Science. After graduation, I moved to the big apple as a fully independent young man eager to enter the working world. It took me the first job working behind a desk to realize that was not the lifestyle I wanted. I left my desk at the media placement agency behind and set out to carve my own path.
I worked my way up from walking for a service in Greenwhich village to starting my very own dog walking service in 2016. Along the way I learned many valuable lessons on how to, and not to run a dog walking service. Through hard work and my drive to offer the best dog care available, Benterprise has truly become a unique experience for you and your dog. I founded the company knowing that the only thing that sets dog walkers apart is their ability to offer a better service. My attention to detail and absolute devotion to being the best at everything I do sets Benterprise apart from the pack. I look forward to helping care for your four legged family member.
Dennis Regan has lived on the UWS for many years. He has made his home on 75th one that is open to animals of all varieties. Recently he has adopted a miniature schnauzer, Cindy, who has befriended his parrot. Dennis is a retired professional who has found his second calling in dog care. He can be seen walking in his fully equipped rock climbing gear, which has redefined the meaning of safe walking.
Dennis Regan
The Man of Many Animals
Eric Rios is a retired firefighter with the FDNY who has been living on the UWS for many years. He has grown up with dogs his whole life and his love of physical activity makes him a perfect fit to be a dog walker. Eric loves to chat with pet parents about their pups, his enthusiasm to get to know each and every dog that joins Benterprise is quite contagious.
Eric Rios
The Muscle
Brandon Brown an upper west side local and good friend of Ben, jumped on the opportunity to help manage Benterprise. Brandon is a great communicator and makes every dog parent he interacts with feel comfortable and safe. He goes out of his way to make sure every need our clients have are met to the best of his abilities. Talking to new dogs and their owners on the street is one of his favorite parts of the job.
Brandon Brown
The Communicator
Kacey Czosnowski has been caring for dogs in Manhattan for many years. She has walked in many different neighborhoods developing a stellar reputation everywhere she goes. Formerly running her own dog care route, dedication and love of dogs are two of the top qualities that make Kacey the dream care taker for any dog parent.
Kacey Czosnowski
The Expert
Some might say Lexi is the most fashionable dog walker on the UWS. Always looking on point she makes dog walking look effortless in sundresses and wide arrays of unique accessories. In particular you can almost always spot her rocking her newest cowboy hat.
Lexi R.
The Fashionista
All training needs are handled through our training partners over at Amanda Gagnon Dog Training.  They are the best of the best and have been helping our furry upper west side residents be on their best behavior for many years. 
Learn more
Our dog walks are typically done in limited packs of up to 3 other dogs. 
We offer three different walk lengths: 30m, 45m, 60m. 
Pricing per walks varies based on a number of factors including frequency and time of day.  Please inquire for a specific quote.
We are open 7 days a week, including holidays, and same day requests.
Upon signing up, your walker will always be the same, you will have direct contact with said walker, and hear from us directly with a picture update every time your walk is completed.
We offer in home overnights and out of home boarding at Ben's apartment.  Each stay is $85/night.  This includes all necessary bathroom walks during your pups stay.  We will provide updates throughout the time you are away and can accommodate any special needs. We have availability to add on longer walks which count as additional purchases on top of the overnight.
We can accommodate any and all puppy needs.  We are highly experienced with new pups and can assist you with initial training.  We will help you find the right schedule for your newest family member and make sure the crate training process goes as smoothly as possible.
No one wants to leave their dog alone for extended periods of time.  One unique service we offer is extended hours of dog sitting that doesn't require an overnight. We can accommodate both in house and out of house sitting.  Feel free to drop your pup off with us at a moments notice!
WHAT ARE YOU WAITING FOR?
WHAT OTHERS ARE SAYING...
Not sure what we would do without Benterprise! The entire team is amazing - dedicated to my pup and me, making sure I'm kept in the loop on everything and that my pup feels loved and cared for. They walk Artie daily, and I never worry about him when in their care.
Benterprise is caring, responsive, attentive, proactive, honest, transparent, flexible and has a deep understanding of how hard it is to turn over these special beings we love so much to others
Ben and his crew do a fabulous job with our beloved, aged Portuguese Water Dog. He's always punctual, polite and entirely reliable. The team is smart, kind and competent. I'd recommend Benterprise Dog Walking to anyone, and everyone.
Benterprise team takes amazing care of our dog on his midday walks. They send a picture update every day, are extremely professional and flexible.
All training needs are handled through our training partners over at Amanda Gagnon Dog Training.  They are the best of the best and have been helping our furry upper west side residents be on their best behavior for many years.  We have known Amanda and her team since we first started walking dogs in the area. They effectively and passionately take on any behavioral challenge your dog might have.
Contact us to get started!